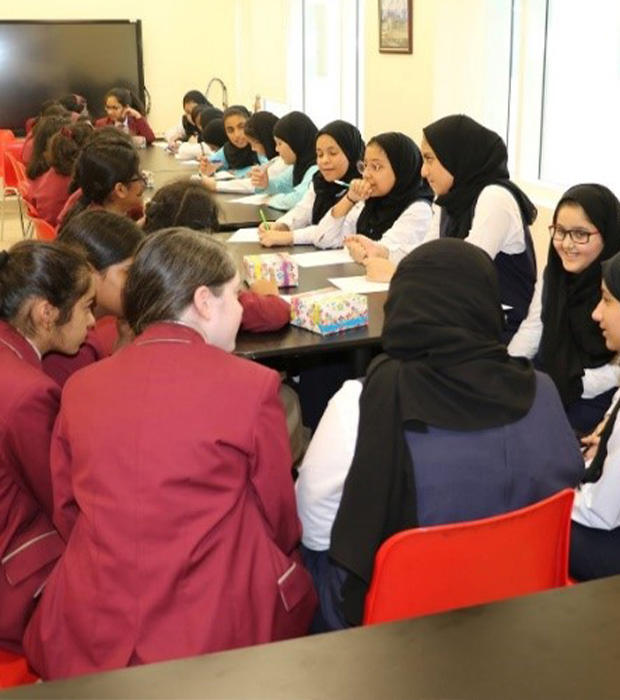 Year Of Tolerance Project
Celebrating Tolerance in Our Nation's Schools
"Tolerance and forgiveness are a duty. If the Almighty Creator forgives and we as human beings are His creation, then shall we not forgive?" - Sheikh Zayed Bin Sultan Al Nahyan
We are proud to have played a part in highlighting and continuing the legacy of the Founding Father, which lives on in the actions and behaviours of all involved at GEMS Education.
After winning the second place at the Sharjah's Triumph Project, GEMS Millennium School, Sharjah was chosen as the Beacon School to lead the tolerance exchange programme ' Celebrating Tolerance in our Nation's Schools ' .
This meaningful joint initiative led by the Ministry of Tolerance and the Ministry of Education is designed to foster greater understanding ,trust and inclusion of others through activities, events and extracurricular experiences that bring students and teachers from different schools together in a harmonious partnership to selected private schools to represent Sheikh Zayed's qualities and values through the use of their innovative, leadership, social-emotional intelligence to positively impact the communities they live in.
The initiative features partnerships between public and private schools,thereby creating opportunities for tolerant attitudes and behaviour to develop through students from collaboration with schools ,working together in teams with those from different backgrounds to design and implement extra curricular activities.
As a school, we witnessed great ability of the students from both the schools to accommodate each other and yet stay culturally adaptive to each other's community. During this exchange programme, our students collaboratively engaged in several activities to bring up meaningful end products showcasing the values and commonalities between cultures in U.A.E. This project is spread across two different age groups, i.e Cycle 1- Primary School (Boys & Girls) and Cycle 2- Middle School (Boys & Girls). Below are the progressing projects:
Cycle 1- Primary Graders (Boys) - 'Information Booklet on Indo Arab culture'
Cycle 1- Primary Graders (Girls) - ' Tolerance

Indo-Arab Perfume'
Cycle 1- Middle Schoolers (Boys) – ' Cultural Mural'
Cycle 2- Middle Schoolers (Girls) – 'Handbook of food fusion with Arab Cuisine'
We have been identified as a beacon school by the Ministry of Tolerance to work with 4 public schools on projects to promote tolerance.
Collaborating on Year of Tolerance Projects With Students from Local Public Schools