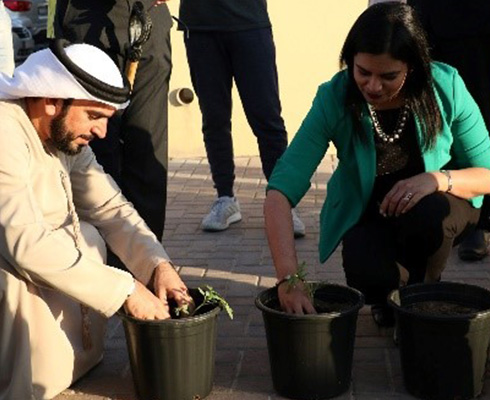 School Community Ties
World Food Day 2020
#teamUFK
We chose World Food Day to start Season 4 of the Green Thumb Project - the GMS Organic Farm. In collaboration with #teamUFK, the School community came together on October 16, 2020 to do the first phase of planting. Last year we grew 175kgs of produce. Our target for this year is to grow more than 500kgs of organic vegetables. So, watch this space!
Why do apples look perfect in the grocery stores? What is soil quality, how can I measure it? Why is soil quality important? We believe in helping students to learn for life. Understanding the world they are living in is more important than ever before. Students want to know "why" things are what they are, where they come from and why they look like they do and more importantly, they want to explore the answers. Young people are inherently interested in their environment. When they get the chance to see and elaborate how their environment functions, they are more willing to work for it.
The Green Thumb Project is an opportunity to see, tell and experience organic farming first hand. This partnership with UFK is yielding fruit (quite literally!). A great big thank you
every selfless member of the UFK Team.
YEC Carnival
11 schools and 22 teams competed for the Young Entrepreneurs Challenge Cup at the YEC Carnival on Children's Day, November 14, 2019. All proceeds collected at the Carnival was donated to Red Crescent. Perfect weather and plenty of food and fun and games stalls made it an enjoyable day!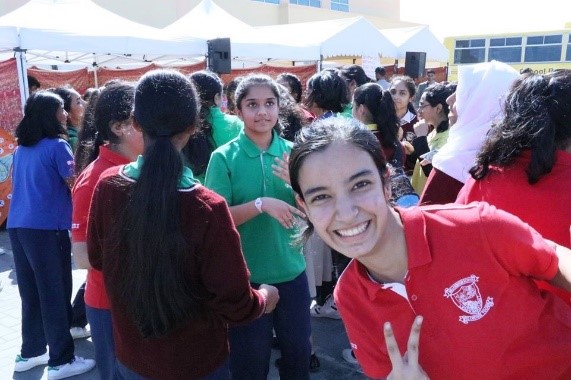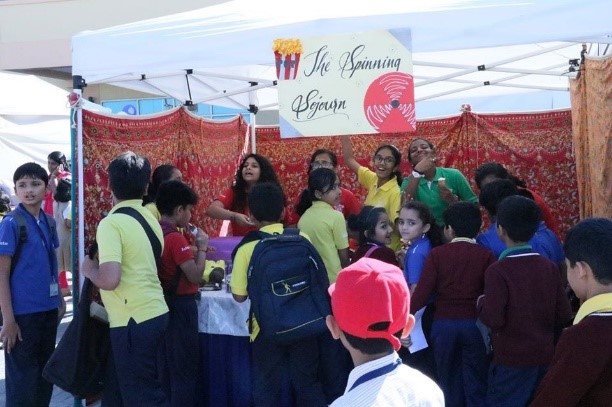 TEDX TALK 2020
The finale of the prestigious Tedx Talk was organized on 26th, November 2020. It was a virtual event with a live telecast and had participants from The Millennium School, Gems Millennium School, and Our Own High School and Indian High School, Dubai.
The students got an opportunity to articulate themselves and come up with out of the box ideas on diverse topics ranging from environment, education and artificial intelligence. They focused on issues that impacted common lives and challenged stereotypical ideas. The event was highly engaging with novel ideas put forth by the young students. Aseem Kaur, Diya Lakshmi and Andria Vinod confidently gave their perspective on matters concerning the world.
The moderator of the event was Ms. Sujata Nair, She lauded the students for following the instructions and advice in a positive spirit, to improve each of their performance. She appreciated the students for their exceptional oratorial skills and consistent efforts that made the programme a success. The participants received a certificate of appreciation from the organizers.
Be'eah
The Bee'ah School of Environment is a comprehensive, bilingual environmental education programme, open to students, of all ages.
Now in its 10th cycle, the Environmental Excellence School Award (ESSA) is the flagship competition of the Bee'ah School of Environment. It aims to challenge and encourage students to find creative and innovative solutions to the environmental challenges of today, now recording participation from more than 400 schools across the UAE.
The theme revolves around an environmental problem in the UAE, and the schools' role is to find solutions for the problem through their submitted projects. The theme for 2019 - 2020 was "Preservation of Marine Life and Water Resources". Four teams participated in the Competition out of which two were declared winners.
Category 1-
Best Environmental Storybook & Song - KG 2 - Grade 2
Students found solutions for preserving marine life and the water resources and illustrated them. The stories written by the students were compiled into a book "Whispers from the Deep". Along with the stories we also presented a song sung by 89 students from KG 2 to grade 2. They bagged the first place and an award of AED 15000/-
Category 2-
Best Environmental Science experiment- Grades 3-5
The students of grades 3-5 found solutions to the theme through science experiments. They received the 3rd position in Environmental Excellence School Award in the category Best Environmental Science experiment and an award of AED 5000/-
Emirates Environmental Group - EEG
EEG is a professional working group devoted to protecting the environment through the means of education, action programmes and community involvement. EEG aims to contribute positively to the advancement of sustainable development in the UAE by acting as a focal point for people of all nationalities and ages concerned with environmental protection and responsible waste management.
The students of GMS have been actively involved with the activities initiated by EEG. They participated in the Can Collection Drive and New paper collection. We did contribute around 9kgs of Cans and 1,318 kgs of paper. Our students also participated in the clean up drive which was organized by the EEG.
As part of their educational programme they have the art competitions where our students participate.
PITSCO
PITSCO Education integrates the core disciplines that enable students to solve problems, be creative thinkers , work together, and articulate ideas. Through decades of change in education, providing competency-based, collaborative, hands-on learning opportunities PITSCO engages students in the relevant integration of STEM concepts while helping them master 21st century skills.
In partnership with PITSCO Education and ATLAB, GMS has transformed the Makerspace with future- ready STEM learning with hands-on projects that develops critical thinking and collaboration skills in exciting areas such as Robotics, Aerospace, Sustainable Energy, Engineering and Physical Science. The School has pioneered the only PITSCO Lab outside the US, and by doing so, we have progressed from STEM learning to STREAM learning.
MANZIL
At GMS we believe in developing partnerships with communities. In our constant endeavour to provide students with a learning experience, we have partnered with the Manzil Center for students with disabilities.
Students from MANZIL Center engage in learning activities along with the students in Art, ICT, Innovation and Physical Education three days in a week. The lessons are Time-Tabled and our students support their buddies on the class. The programme benefits all students they expand their viewpoint, develop empathy and leadership skills in their early years of schooling.
GENERATION GLOBAL
Generation Global is a Forum where students are allowed the unusual privilege of having a constructive dialogue with a different set of peers from varying backgrounds and corners of the World. Generation Global helps connect classrooms across the World, allowing students to explore, articulate, and develop their own views, while encountering and considering the views of others. This enables us to develop our youth. It allows them not just to get acquainted with various cultures, but to also inculcate the righteous virtues from them. It is a safe domain, with a trained facilitator to manage the flow of the discussion.
Our students recently had the opportunity to have an inspiring and fruitful dialogue with three other schools around the globe through our first Video Conference which was held on Thursday, February 7, 2019. The exchange of dialogues was an amazing learning experience.