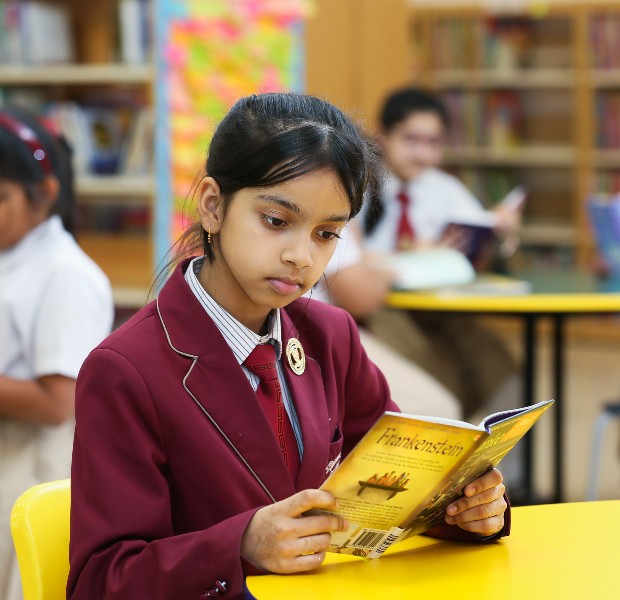 Student Leadership
Leadership Training
Leadership qualities are developed as one of our core values and promoted at all levels. Various categories of leaders are selected on the basis of qualities such as exemplary conduct, willingness to undergo training as role models, excellence in curricular and co-curricular activities, working together with other team members and the ability to uphold all rules and disciplinary requirements in every detail.
Prefectural Body
The Prefectural Body is headed by the Head Boy and the Head Girl, Deputy Head Boy and the Deputy Head Girl, four House Captains and Vice Captains, Eco Captains, Prefects and Deputy Prefects from Grades 9 to 12.
Student Leadership Team
PREFECTURAL BOARD - 2023 -2024
SL.NO
POSITION
NAME
GRADE & SECTION
1
HEAD BOY
PRANAY BAPNA
12B2
2
HEAD GIRL
ANDRIA VINOD
12G1
3
DEPUTY HEAD BOY
SHASHWAT SINGH
11A
4
DEPUTY HEAD GIRL
ANUPAMA AVARANKUNNATHU PADINCHARETHIL
11D
5
PRESIDENT - SCHOOL COUNCIL
SYED ZIDANE IMRAN MUSHTAQ
12B1
6
PRESIDENT - SCHOOL COUNCIL
NIHARIKA SURANA
12G1
7
VICE PRESIDENT - SCHOOL COUNCIL
MARC GEORGE ABRAHAM
11A
8
VICE PRESIDENT - SCHOOL COUNCIL
MUMUKSHYA BAITHARU
11E
9
SPORTS CAPTAIN
KRITHIK RAHUL
12B2
10
SPORTS CAPTAIN
TAMANNA GULZAR
12G2
11
DEPUTY SPORTS CAPTAIN
NABEEH ABDUL MAJEED
11A
12
DEPUTY SPORTS CAPTAIN
AARYA ABHIJIT SANKPAL
11D
13
WELL BEING AMBASSADOR
SAMYAK LINESH
12B1
14
WELL BEING AMBASSADOR
THEERTHA BIJU NAIR
12G2
15
WELL BEING AMBASSADOR
FATEEN AJAZ NAQASH
12B2
16
WELL BEING AMBASSADOR
INSIYAH BHUSAVALA
12G2
17
DEPUTY WELL BEING AMBASSADOR
FARHAN SANIO
11A
18
DEPUTY WELL BEING AMBASSADOR
SAI SAHASRA TENNETI
11E
19
WELL BEING CHAMPION
PARTHAM MAHETA
10B1
20
WELL BEING CHAMPION
SHRIYA JISHNU
10G2
21
ECO CAPTAIN
JOSHUA SABHYA RODRICKS
12B2
22
ECO CAPTAIN
RIDA SHANI
12G1
23
ECO CAPTAIN
RAYAN AUGUSTINE LOPEZ
12B2
24
ECO CAPTAIN
SHREYA MANOJ KUMAR
12G1
25
DEPUTY ECO CAPTAIN
MIR MEHDI ALI
11A
26
DEPUTY ECO CAPTAIN
PRISHA RAJ
11D
27
ECO CHAMPION
KASHVI AGARWAL
10G
28
ECO CHAMPION
ANGEL RUDERIC D'SOUZA
9G1
29
E SAFETY AMBASSADOR
JAYANTH RAMGANESH
12B1
30
E SAFETY AMBASSADOR
STEFFI JACOB
12G2
31
DEPUTY E SAFETY AMBASSADOR
AISHA SHAIKH
11D
32
ANTI BULLYING AMBASSADOR
MAYUR PARTHIV SOHANLAL
12B2
33
ANTI BULLYING AMBASSADOR
MYSHA AIJAZ
12G1
34
DEPUTY ANTI BULLYING AMBASSADOR
SARANG JINESH
11B
35
DEPUTY ANTI BULLYING AMBASSADOR
ANMOL SINGH
11
36
CULTURAL AMBASSADOR
ANAND JACOB
12B1
37
CULTURAL AMBASSADOR
SAACHI KANDA
12G2
38
DEPUTY CULTURAL AMBASSADOR
MITHRA RAJESH
11E
The School Council
The School Council headed by the Presidents is supported by the Vice Presidents, Well Being Ambassadors and elected Council Leaders from Grades 5 to 12 as office bearers.
Student Council Members
SCHOOL COUNCIL MEMBERS - 2023 -2024
SL.NO
NAME
GRADE & SECTION
1
AADHARSHAN RAJASEKARAN
5B
2
ADAM ABDUL HY
5B1
3
DAANYISH JALEEL
5B2
4
JYOTSNA RAMGANESH
5G
5
PARVATHY ANAND
5G1
6
ASHER CHRIS RODRIGUES
6B
7
MOHAMMAD IMAAD KHAN
6B1
8
RAYYAN MOHAMMED NADEEM
6B2
9
ISRA SARAH
6G
10
TANISHA SACHIN NANDRE
6G1
11
MOHAMMED DANIYAL
7B
12
MICHAEL JAISON JACOB
7B1
13
SAANVI KRISHNANAND PATIL
7G
14
ADEENA MARIYAM
7G1
15
ABDUL RAHMAN JUBAPU
8B
16
JADEN SHINO
8B1
17
MEENAKSHI VINOD
8G
18
AMEYAA MANIKANDAN
8G1
19
KRISTON JOSEPH RODRIGUES
9B
20
KARTHIK GANAPATHI SIVAKUMAR
9B1
21
RISHI MALLIK SURAPANENI
9B2
22
VISHAL GIGY MUNDACKAL
9B3
23
ZEHNA BIMAL
9G
24
ARCHANA YOGESH
9G1
25
NORA HASVAR
9G2
26
KUNAL SADHYA
10B
27
ADARSH SARGA ROY
10B1
28
AATIQ AHMED RAZA
10B2
29
ISHAAN CHANDRASEKHARAN
10B3
30
EMAAN NAYEEM PARKAR
10G
31
SAI SNEHA SUNIL
10G1
32
ANN MARY NEBITSON
10G2
33
MOHAMMED UMAR
11A
34
MRUDHU KAREM
11B
35
ABEN GEORGE ALEXY
11C
36
SHRIJAL RAINA
11D
37
IFLAH SAMEEN
11E
38
JESSICA ANANYA BETHEL
11F
39
ABHIRAM SARITH BHARATH
12B1
40
KRISHNA SANJEEV MENON
12B2
41
KATELYN ANNA RODRIGUES
12G1
42
DIYA LAKSHMI KISHORE KUMAR
12G2
ISLAMIC COUNCIL MEMBERS
SL.NO
NAME
GRADE & SECTION
1
ESHAAN ETTAPURAM SHAJHAN
6B1
2
SOFIA JUSHIDDI WASEEM
6G
3
HASAN ABDULLAH SIDDIQUI
8B1
4
MIRAL KAUSHAL
8G
5
MOHAMMED SHAYAAN MOORKATH
10B1
6
MARIYA ALI RAZA
10G
7
CHU ABDURAHIMAN WAASI
12B1
8
NABIHA HAVALDAR MAKSUD
11E
The House System
The House System is an integral part of the GEMS Millennium School's aspiration to foster a sense of belonging apart from striking a good balance between competition and cooperation. These Houses form the basis of many sporting, artistic and intellectual challenges across the school including the Inter House Competitions and accumulation of points. The House points are awarded for achievements in all areas of the curriculum and departments hold special events and tournaments whereby Houses gain extra points. To inculcate a sense of loyalty, team spirit and healthy competition, students are divided into four Houses which are:
| | | | |
| --- | --- | --- | --- |
| Houses | Motto | Meaning | Colour |
| Spring | Labor Omania Vincit | Work Conquers All | Green |
| Summer | Ad Astra | Reach For The Stars | Yellow |
| Autumn | Veritas Veis Liberabic | Truth Liberates | Red |
| Winter | Carpe Diem | Seize The Day | Blue |
The selection process is through a system where all students from the Senior School are given an opportunity to fill up a Self-Nomination Form. The students are then shortlisted by members of the Senior Management Team and teachers. These students then go through an interview process after which the Prefectural Body is selected. The School Council members are selected on the basis of nomination by the teachers concerned and a voting done by members of the class.
SUMMER HOUSE
39
HOUSE CAPTAIN
KRISHNESH KRISHNAKUMAR NAIR
12B1
40
HOUSE CAPTAIN
NEIRA D'SOUZA
12G1
41
VICE CAPTAIN
ABDULLAH SIRAJ
11B
42
VICE CAPTAIN
APARNA VENKATESH
11D
43
PREFECT
ALFRED SHAJU
10B3
44
PREFECT
RISHABH RAMESH NAIR
10B3
45
PREFECT
ISHANVI ARORA
10G2
46
PREFECT
DIYA SEETHARAM
10G1
47
DEPUTY PREFECT
ABDU MANNAN SIRAJ
9B2
48
DEPUTY PREFECT
LAKSHMI LAJISH
9G1
AUTUMN HOUSE
49
HOUSE CAPTAIN
YUVA SAGAR
12B2
50
HOUSE CAPTAIN
MIHIKA MANOJ
12G1
51
VICE CAPTAIN
GAUTAM ANISH PADAVATHIL
11A
52
VICE CAPTAIN
MARYAM JUMANA
11F
53
PREFECT
MOHAMMAD ABDUL RAZZAQ SIDDIQUE
10B3
54
PREFECT
ADITYA ANAND
10B3
55
PREFECT
TAHANI SIRAJ
10G
56
PREFECT
LAAIBAN MAHREEN
10G
57
DEPUTY PREFECT
MOHAMMED AABAN KHAN
9B
58
DEPUTY PREFECT
HASINI SENTHIL
9G1
WINTER HOUSE
59
HOUSE CAPTAIN
IMMANEUAL SAMPATH
12B1
60
HOUSE CAPTAIN
RIDA ZAHID
12G1
61
VICE CAPTAIN
MANAV ANEESH MADAMBIKKATTIN
11A
62
VICE CAPTAIN
HADYA BINT FAISAL
11F
63
PREFECT
Evan Vipin
10B
64
PREFECT
Keshav Rastogi
10B3
65
PREFECT
Hannie Nevisa
10G
66
PREFECT
MARIYAM KHALID
10G
67
DEPUTY PREFECT
Arjun Rajesh Nair
9B1
68
DEPUTY PREFECT
Diya Harikumar
9G1
SPRING HOUSE
69
HOUSE CAPTAIN
ADIL KALLATRA MOHAMMED
12B1
70
HOUSE CAPTAIN
KATLYN LINSEY
12G2
71
VICE CAPTAIN
ISAAC PAUL
11C
72
VICE CAPTAIN
ALIZAH ZAHEER KAZI
11D
73
PREFECT
Rayyan Perwez
10B
74
PREFECT
Nuaym al Jafri
10B3
75
PREFECT
Sreya Binesh
10G2
76
PREFECT
Elizba Arshad
10G
77
DEPUTY PREFECT
ADITYA RAJ SINGH
9B2
78
DEPUTY PREFECT
ANANYA SATHYANARAYANAN
9G