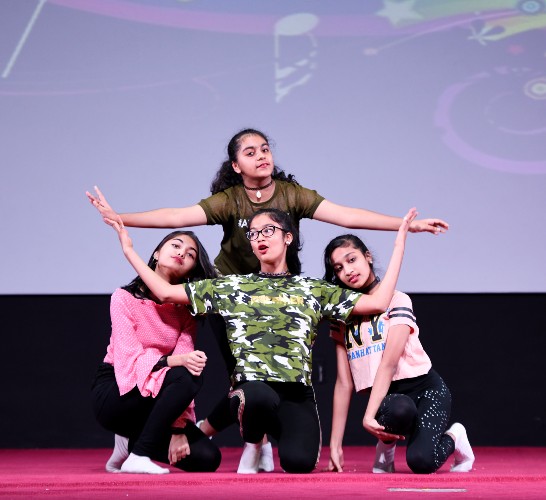 Events and Competitions
The school offers a wide range of activities that provides for the all-round development of students' personality through many avenues. The school believes in an inclusive policy and gives every student an opportunity to participate in the co-curricular programmes offered at school. In the KG and Primary Section, almost all activities involve all students. In the Middle and Secondary school, interested students are auditioned before the final selection for the various events.
Star Student of the Section

The objective is to identify, recognize, promote and reward the exemplary students across the school. The best student in every section of every Grade will be recognized as the 'STAR STUDENT' on a monthly basis.

Inter-School/Inter-House Competitions

The school regularly prepares students for various competitions such as Elocution, Debates, Choral Singing, Performing Arts, Painting, General Quiz, Math Quiz, STEM and Robotics etc. and are trained by committed and talented staff.

All classes go on local one-day edutainment trips to interesting places within the U.A.E. as per Ministry regulations.

The school puts up cultural shows on various events like the Graduation Day, Annual Prize Day, Primary Concert, Special Assemblies and U.A.E. National Day.

Parent involvement and deeper engagement in their ward's school life is a norm at GMS. This parental support is vital in enhancing learning in children, GEMS 3 a-day programme: TALK, SHARE and ENCOURAGE equips every parent to partake in their child's all- round development.

Purposeful Parent Engagement activities like Orientations, Open Houses, Science Week, Special Assemblies, School Events and Competitions are on-going. Talk Shows, Debates, Art Extravaganza, Storytelling, Quiz, Public Speaking and STEM Workshops are well received and have had a huge footfall of enthusiastic parents.

Physical Education is an integral part of the curriculum. Students of Grade 3 upwards are also coached in Cricket, Basketball, Football, Table Tennis, Swimming, Roller Skating, Chess, Badminton and Athletics during the afternoon activities. The KG and Primary students put up Sports and Drill Displays every year in which each and every child participates. InterHouse competition in all major games, athletics and swimming are conducted annually in the sub-divisions (Grades 5 to 12) and teams represent the school in the Inter-school Sports/Games meets organized by other reputed Schools / Institutions and CBSE.

OLYMPIAD: This is a whole school programme that challenges and helps build students' skills in Math, Science, Spelling and General Knowledge.

JAM: Just a Minute is a whole school initiative aimed at improving public speaking and communication skills of students.

The Eco-Club at GEMS Millennium School, Sharjah aims to raise awareness on environmental issues and sustainable development through activities integrated into the curriculum. Environmental awareness and action, forms an intrinsic part of the culture and ethos of the school for all stakeholders, namely, the pupils, staff and our parent community. The specific objectives of the Club are to:

Improve the school's environment by planting trees around the school.
Reduce litter and waste.
Reduce the use of energy and water through enforcement
Promote healthy lifestyles.
Participate in the Earth Hour and other community programmes and contribute positively to global well-being.

The Eco-advocates of our Go Green Club from KG to the Senior School take responsibility to do a daily check of the classrooms for littering, switching off the lights, air conditioners and computers when not in use, recycle and reuse waste, and reduce the use of water. A year round campaign for collection of cans, paper, and plastic bottles is undertaken.

The mission of the Eco - Club is to ensure that all our pupils and staff demonstrate the 4 Rs which are- Recycle, Reuse, Reduce and Refuse, in their day-to-day life. Education for the Planet is undoubtedly an integral part of our curricular and co-curricular activities, thus preparing our pupils for the 21st century.

Self Enhancement Programme (SEP)

Grades 1 to 4

Prize books for Academic Proficiency are awarded to the 3 top ranked students with the highest overall percentage at the Grade level.

Grades 5 to 12

Academic and Subject Proficiency

Prize books for Academic Proficiency are awarded to the 3 top ranked students with the highest overall percentage at the Grade level. Prize books for Subject Proficiency are awarded to the top ranked student with the highest overall percentage at the Grade level.

Badges and certificates will be awarded twice in an academic year to students of Grades 1 to 12.
In April, 2019 to the top 1/8th students across a Grade level based on the overall marks scored in the 5 core CBSE subjects in the assessments conducted in the second term for the (academic 2018 - 2019).
In November, 2019 to the top 1/8th students across a Grade level based on the overall marks scored in the 5 core CBSE subjects in the pre-mid-term test and mid-term examination; unit tests and half-yearly examination for the (academic 2019 - 2020).

The top 10% of students from Kindergarten to Grade 12 are awarded for their exceptional performance in each of the Olympiads; Spell-a-thon, Math, Science, and General Knowledge.
Cultural Students of Grades 1 to 12 who excel in activities like Vocal Music, Instrumental Music, Art, Public Speaking, Debate, Innovation, Technology and/or in other special talents are awarded Trophies and Certificates of Achievement for their area of excellence at Malakat at'tabeer- The GMS Talent Search.
Sports Students of Grades 1 to 12 who excel in Swimming, Cricket, Football, Chess, Athletics, Badminton, Basketball and other sports activities are awarded medals of excellence in that category. Students of Grades 5 to 12 whose performance throughout the year is commendable in sports are awarded All Round Achievement certificates in Sports

Our afternoon Self Enhancement Programme (SEP) is integral to the school curriculum. It is designed for students of Grades 3 to 12. The programme allows students to explore their innate interests and sets them out on a path of lifelong creativity, exploration, and curiosity. The Self Enhancement Programme for Grades 3 to 8 combines enjoyable learning and leadership opportunities with talent and self-esteem building activities. All the activities are facilitated and supported by suitably qualified staff. Students of Grade 9 attend academic support and reinforcement sessions in all core subjects with one game/activity of their choice. Students of Grades 10, 11 and 12 attend classes for academic support, reinforcement sessions and subject practicals. Our students have the opportunity to participate in a variety of activities:

| | |
| --- | --- |
| GROUP A (Fitness, Sports, Culture) | GROUP B (Hobbies, Interests, Academics) |
| Aerobics to Zumba - A to Z Fitness Club | Art and Clay Modelling |
| Badminton | Calligraphy |
| Basketball | Debate and MUN (Grades 6 upwards) |
| Chess | Photography and Film-making (Grade 6 upwards) |
| Cricket | Quiz and Scrabble Club |
| Football | STEM and Robotics Club |
| Roller Skating | Tech Club (Computers) |
| Swimming | Arabic Remediation |
| Table tennis | Arabic Beginners |
| Athletics | Hindi Remediation |
| Music - Instrumental and Vocal | Mathematics Remediation |
| Dance - Indian and Western | French Remediation |
| Drama and Theatre | Miicrosoft Imagine Academy |

The Kindergarten Self Enhancement Programme (KSEP) is designed to encourage and develop the personality, talent, creativity and imagination of our Kindergarteners. Activities include Roller Skating, Football, Cricket, Fun with Coding, Eurhythmics, Art & Craft, Story Time, Drama and Theatre, Free Play, Imaginarium, Music and Yoga for Little Chefs, Spell Bee and STEM Activities.