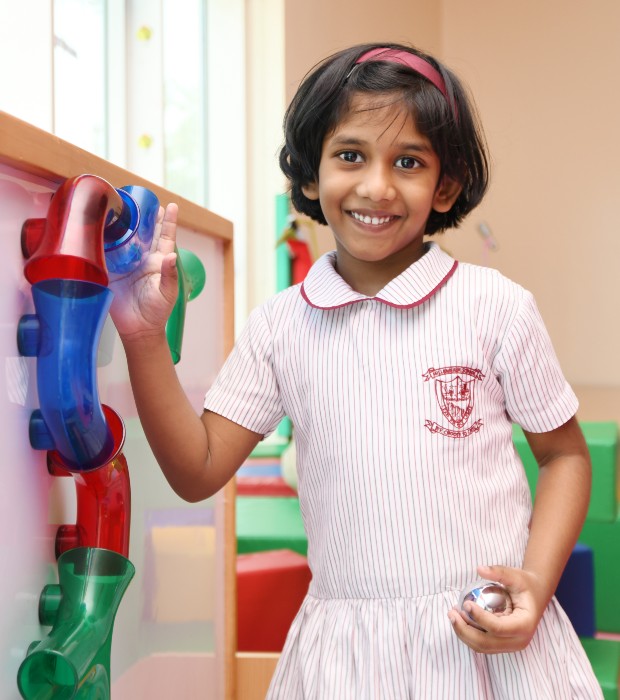 Admissions Process
How to begin your child's journey
GEMS Millennium School is an inclusive school. The GEMS vision for Inclusive Education is that we achieve excellence together by all students receiving the support they need to meaningfully belong to their school and wider community, feel valued for their contributions, engage purposefully in learning and experience academic, cultural, social and emotional success in a common learning environment.
At GMS we welcome children with a range of learning preferences, including 'The Determined Ones' (students with Special Education Needs and Disabilities) and students who are gifted and talented. We are determined to make a change in the lives of these students by guaranteeing the right to receive quality education. They will be actively supported to participate in the process of learning with appropriate education plans, accommodations and curriculum modifications and Learning Support Assistants, if needed. Student Support Centre is functioning to cater the individual needs of the students.
Please share full details of any special educational needs, individual education plans (IEPs) and any Educational Psychologist, Pediatric, or other specialist reports (e.g., Speech and Language or Occupational Therapy) if completed. Sharing educational history with GMS prior to a place being offered is essential so that staff can ensure an appropriate assessment of educational need, educational plan and resourcing is in place. Admission is not conditional on the submission of a medical diagnosis and we have effective transition processes in place for all children.
Students are not refused admission based only on their experience of a special education need or disability (SEND) and we give sibling priority for admission to students who experience SEN.
Requirements and Eligibility (Academic Year 2022-2023)
As per the Ministry of Education, Sharjah:
PreK - Child needs to be born between 01-04-2018 and 31-03-2019.
KG1 - Child needs to be born between 01-04-2017 and 31-03-2018.
KG2 - Child needs to be born between 01-04-2016 and 31-03-2017.
Grade 1 - Child needs to be born between 01-04-2015 and 31-03-2016.
Documentation
Students must submit the following documents for admission:
Online registration number
Admission Form duly completed
Two photocopies of the child's passport with a valid U.A.E. visa (first page, last page and visa page)
Two Emirates ID card copies of child (front and back of the card)
Two copies of the Birth Certificate of the child in English or Arabic
Five passport size (4cm x 6cms.) photographs of child with white background
Two copies of father's passport, valid residence visa and Emirates ID
Immunization Card Copy
Original Emirates ID card of the child and parents will be scanned and returned immediately. This is required when MOE opens their online system for approval (an appointment will be given)
For Grade 1 upwards, the Transfer Certificate / School Leaving Certificate of the last school and latest report card must be submitted duly attested as per the guidelines below:
Students Coming from Schools in the U. A. E. are required to submit the original Transfer Certificate / School Leaving Certificate of the school last attended, duly attested by the Ministry of Education of that Emirate.
For students coming from outside the U. A. E. the following order of attestation must be observed for the Transfer Certificate and marksheet:
For students coming from India
The original Transfer Certificate and the report card has to be attested by the Education Officer of the Zone / District / Area from which the T.C. has been obtained. For ICSE and CBSE students, the TC must be attested from their respective Board.
The seal and signature of the Education Officer has to attested by the Indian Consulate in Dubai and the Ministry of Foreign Affairs, Dubai/Sharjah/U.A.E
For students coming from Gulf countries other than the U.A.E. and Oman, the original Transfer Certificate should be attested by
the Indian Consulate/Embassy in that country
local Education Ministry of that country
the External Affairs Ministry of that particular country
the U.A.E. consulate or Embassy in that particular country
For students coming from Oman, all of the above attestations excluding the verification by the local Education Ministry of that country must be complete.
Student Registration
To register a student in GEMS Millennium School, Sharjah, simply follow the step by step guide below.
Please ensure that you have all of the necessary information to hand, including the student's:
Passport
Visa
Emirates ID
Step 1
Go to the link provided on the school website. Under 'Admission' you will find 'Enrol Online'. Click on 'Enrol Online', or click here.
Step 2
Select the Academic Year, Grade, and Term from the options provided. The system will then provide the current status of admissions. If admissions are closed for the grade you want, you will not be able to proceed with the process.
Step 3
Next, you will be asked to confirm the applicant's background, and their passport and visa details. You should also enter the primary contact details of their Father/Mother/Guardian.
Step 4
You will then see a preview of the form, and will have the opportunity to amend any of the information. Click Proceed. Your enquiry has been submitted.