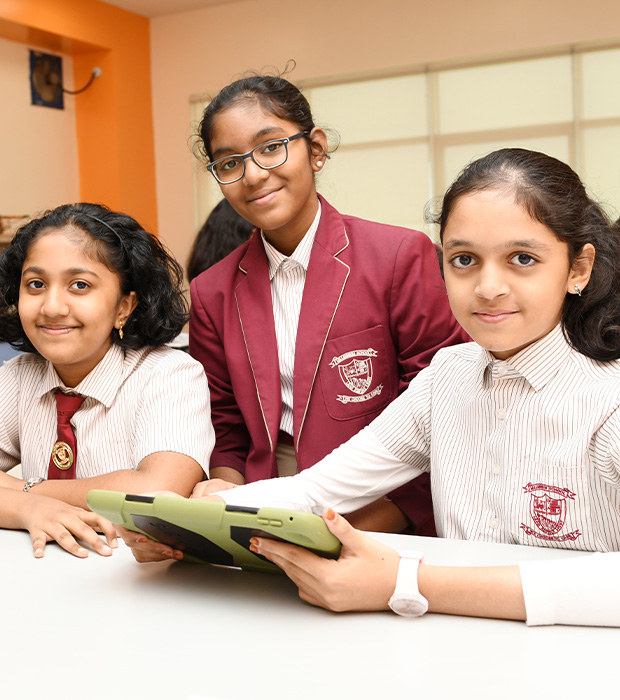 Middle School
Grades 5 to 8
In the Middle School, students are moulded into reflective learners and critical thinkers. The emphasis is on being visually creative and enterprising, developing the right study habits, and acquiring in-depth conceptual knowledge. The curriculum is research oriented and based on teamwork via discussions, group project work, discovery, BYOD and exploration. It is planned with the aim of providing a broad, balanced and relevant course of study for all the students. Set within the context of the CBSE curriculum, it promotes the Moral, Cultural, Social and Physical Development of students, thus preparing them for the responsibilities and experiences of adult life. A wide range of teaching and learning strategies are employed in all areas of the Curriculum. Our well-thought out extra-curricular activities include Creative Writing, Elocution, Quizzes, Painting and Workshops conducted by guest speakers.
List of Subjects
English
Mathematics
Science
Social Studies
Moral Education
Arabic
Islamic Education / Moral Instruction
Second Language – Hindi/Malayalam/French
ICT
Performing and Visual Arts
Physical Education and Swimming
The System of Evaluation
The pattern of assessment and system of grading is consistent with the CBSE guidelines. Assessments will be conducted as per the CBSE assessment pattern.