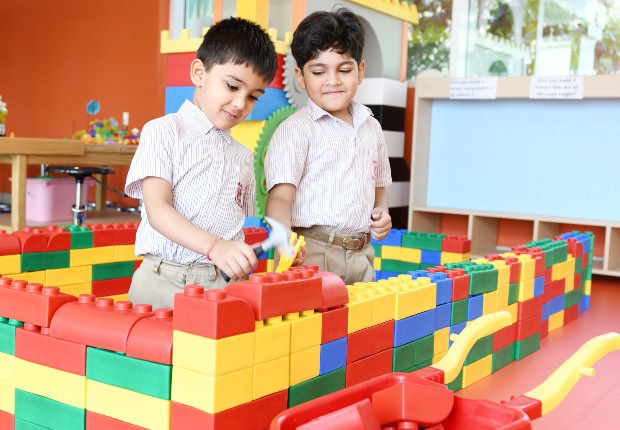 Extra-Curricular Activities
The school offers a wide range of activities that provides for the all-round development of students' personality through many avenues. The school believes in an inclusive policy and gives every student an opportunity to participate in the co-curricular programmes offered at school. In the KG and Primary Section, almost all activities involve all students. In the Middle and Secondary school, interested students are auditioned before the final selection for the various events.
PAINT - PLAY - PERFORM

Music, Art, and Dance are elective options beginning in GMS and offer students the chance to explore new interests and dig deeper into their passions.

Offerings

Art and Clay Modelling
Calligraphy
Music
Dance/ Drama and Theatre

CREATE – DESIGN – INNOVATE

The club encourages students to personalize their learning, pursue interests and embrace new ways of thinking.

Offerings

STEM & Robotics
Microsoft Academy
Tech Club
Photography & Film Making

RUN - SHOOT - SCORE

Research indicates that effective after school activity programs contribute to increased student achievement. Whether your child's interests lie in community service, athletics, or the arts, SAS strives to offer a comprehensive and well balanced after school activity program. With over 50 sports teams, middle school students truly do have a world of choices.

Offerings

Badminton
Football
Swimming
Roller Skating
Basketball
Cricket
Chess

A little planning goes a long way

The Literary club extend and enrich reading, writing, speaking and listening skills. It inculcate among students a flair for the language and enhance their literary skills ·

We also focus on developing the 4 "C"s of 21st Century skills (Collaboration, Critical Thinking, Communication and Creativity)

Offerings

Model United Nations (MUN) / Debate Club
Quiz and Scrabble

Dreamers - Thinkers - Doers

KSEP is an after school programme (12:00 p.m. to 1:30 p.m.) which allows students to explore their innate interests and sets them on a path of lifelong creativity, exploration and curiosity.

Offerings

Roller Skating
Football
Cricket
Fun with Coding
Eurhythmics
Art & Craft
Story Time
Drama and Theatre
Free Play
Imaginarium
Music and Yoga for Little Chefs
Spell Bee and STEAM Activities

** While KSEP will be offered at an additional cost for the students of KG 1, the students of KG 2 will be able to avail the KSEP activities all-inclusive in the tuition fees.