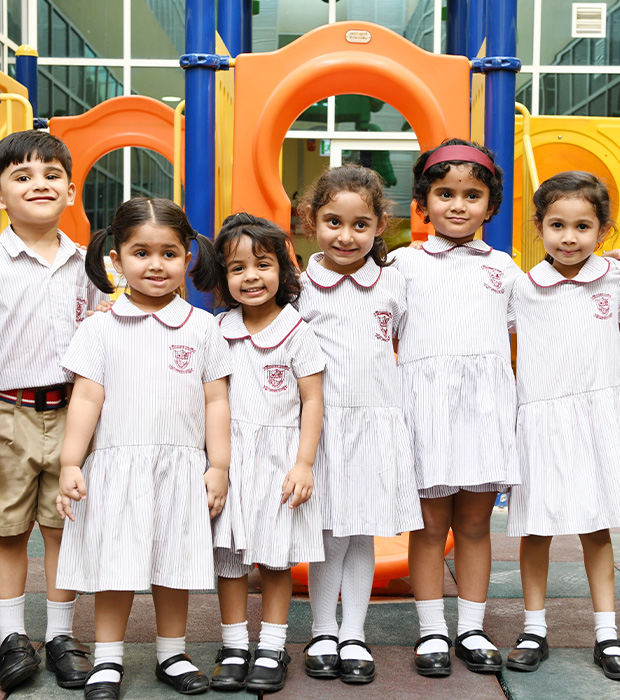 The GMS Story Timeline
GEMS Millennium School, Sharjah founded in 2010, is a day-boarding school for boys and girls aged 3 to 18 years. With around 2,200 students and more than 150 faculty members, GMS, as it is fondly called, has firmly established itself as a premium school known for academic excellence and an exceptional variety of after-school enrichment programmes.
A child's first experiences of school are instrumental in shaping how they view learning. Our outstanding Early Years Programme covers Pre-KG and the Kindergarten years. The curriculum is designed to allow your child to discover interests and talents as well as equip them to become life-long learners. Our nurturing and inspiring purpose-built learning spaces offer a safe, caring and happy environment where a child believes that they are capable of anything.
The hallmark of a quality school is its ability to develop happy, creative and mindful students. Hence, all activities are designed, executed and evaluated based on this vital yardstick. We believe that our students can achieve excellence in an atmosphere of encouragement and acceptance. Affiliated to the Central Board of Secondary Education, New Delhi, India, GEMS Millennium School is an inclusive school that believes in inspiring a passion for learning, encouraging emotional and intellectual vitality, and empowering students with the confidence and courage to achieve their dreams. To support this, GMS offers an enriched curriculum that is engaging, challenging and robust. The curriculum centres around the GEMS Core Values: One Team, Excellence, Always Learning and Care.
Our students achieve outstanding examination results, which are among the best in the region. They experience outstanding personal development, ensuring that they secure places in world-leading colleges and universities.
The School has state-of-the-art facilities filled with vibrant learning spaces which ensure that learning is joyful and experiential. The classroom and learning spaces provide multiple resources, including meaningful uses of technology, for enhanced and extended student learning. GEMS Millennium School, Sharjah is a vibrant and pulsating campus with a charged atmosphere that is conducive to every student realizing his/her true potential. We aim not only to provide students with quality education but also to inculcate a feeling of mutual respect and harmony.
Our staff of highly qualified and experienced teachers is committed to knowing, understanding and celebrating every child, and leading them to their personal best. A strong partnership between school and parents creates the foundation for positive relationships, which helps students to be confident and successful individuals, and the school to grow and flourish.
GEMS Millennium School Timeline
School opened its doors to students on May 23, 2010. GMS as it is fondly known, is co-education day boarding school patterned on the lines of The Millennium School, Dubai.
In its 2nd year, the school grew to 1,200 students and 100 staff members
In its 3rd year, the school grew as more students, teachers and parents joined the GMS family.
Athmaja Kavia Bijo receives the Sheikh Hamdan Bin Rashid Al Maktoum award
Priyanka Parimelazhagan receives the Sheikh Hamdan Bin Rashid Al Maktoum award.
With 5 years behind it, the school recognised the need for an exchange of information and practices and began to collectively push for better things for students and parents alike.
Meenakshi Jayakumar is declared winner of the prestigious Munsheed Sharjah award.
Athmaja Kavia Bijo and Jayant Ramganesh receives the Sheikh Hamdan Bin Rashid Al Maktoum award.
Jayant Ramganesh receives the Sharjah Award for Excellence in Education.
Rahul Kandekar won the Sharjah Innovation Award
Beautifully choregraphed musical production, The Lion King was staged
Educational Initiatives
1st batch of Grade 10 took the CBSE Board Exams – attained a School Average of 81.3%
Introduced PIE Worksheets
Introduced the Afternoon Self Enhancement Programme
Applied for Senior Secondary School CBSE affiliation
Introduced Just-a-Minute, Math Olympiad, Science Olympiad, Spell Bee, and G.K. Quiz
Introduced Field Trips for the Senior Grades
Optimised utilization of School facilities
Achieved recognition as a Common Sense School
Installed softboards in corridors and classrooms to provide a stimulating learning environment
Infrastructural Improvements
Remodeled the School Lobby
Painted School interiors and focus areas
Installed CCTVs to cover the campus
Refurbished the: Pantry, Music room, Auditorium, and Offices - Principal, Head of Primary, Counsellor and Administration
Created new Activity spaces: iLab, Makerspace, Traffic Park, and Math Lab
Created an additional Clinic on the First Floor
Stakeholder Satisfaction
Open Door Policy – Students, Parents and Staff do not need an appointment to meet any School Leader, including the Principal and the HM
Instituted the Parent Forum with 17 members
Resolved compliance issues with Teacher approvals
Introduced the Staff PDP and 360 degree feedback
Calibrated students numbers and classroom allocations to meet SEZ regulations
Released the first School Yearbook – Montage
Started the official Facebook page
Started the School Newsletter
NPS improved from -4 to 8
Introduced Team jerseys for students
Introduced Awards and Incentives for Staff and Students: Teacher of the Month Award, Principal's Special Awards for Students and Administrative Staff, and Performance based allocation of Management Points
Major Achievements
Meenakshi Jayakumar won the Munshid Sharjah Award; Received from the Ruler of Sharjah – the only non-Arab

to have won the Award
Rishabh Java won the Gulf 3D Printing Olympiad
Lifted the Millennium Melodies Winners Trophy
Won First Prize at Chrysalis for Arabic Poetry Recitation
Won Second Position at the National Round in the Hindi Utsav Debate Competition
Educational Initiatives
Introduced the Academic Laureate Badges
Introduced the Golden Ribbon Awards
Introduced Star Student of the Section
Introduced the Reading Programme
Wider range of activities offered - Creative Park, Canon Photography, Story Telling Stars and Microsoft Academy
Instituted the Eco Club
Achieved CBSE affiliation for Senior Secondary
Overall rating in the GEMS Internal Review moved from Acceptable to Good
Organised a Career Fair – 30 universities participated
Appointed Specialist Physical Education Teachers
Introduced Hydroponics
Introduced Malakat At'tabeer – The Talent Search Contest
Introduced Girls Soccer
Additional Supervisor appointed
Achieved recognition as a Miscrosoft Showcase School
Started BYOD for Grades 3 to 8
Infrastructural Improvements
Senior block constructed and modifications made to the existing building in line with the approved plan
CleverTouch interactive TVs installed in all classrooms
Access Control Doors installed
New School Signages fixed - Frontage
Installation of an additional 25 CCTVs
AED 145,000/- worth of books added to the Libraries
Senior School Computer Lab upgraded
Switched to energy-saving LED lights across the School
Track and Field inaugurated
Flooring in the

KG Play Area changed
Canopies replaced with new fire retardant ones
Two 10- ton ACs installed in the School Reception
Raised staircase railings
Multipurpose Hall makeover; upgradation of projectors and flooring, 2 video walls and a complete AV upgradation
Prayer rooms and washrooms for drivers created outside.
Parent ID made mandatory for own transport users
Lifts, ramps and accessible toilets installed
Stakeholder Satisfaction
Local Advisory Board instituted
Redrafted the Vision and Mission of the School
NPS improved from 8 to 14
Parent Forum membership increased from 17 to 27
The You Said We Did Initiative was very well received
Major Achievements
Hamdan Award Winner – Anupama Avarankunnuathu Padincharethil
3 students qualified for the CBSE Nationals
Several victories at Inter-School competitions
Excellent ASSET results with significant improvement in Math and Science; among top performing school in English
Won Best Female Singer and Most Colourful Team at Rangoli Gulf 2017
Rishabh Java won the Gulf 3D Printing Olympiad for the second consecutive year
Won the DEWA Robotics Competition
Four TDOs won top prizes at the Art Competition organized by WSS
Educational Initiatives
First batch of Grade 12 took the CBSE Board Exams; School Average was 80.2%
First batch of graduating students; Graduation and Farewell Ceremonies organized
CBSE Grade 10 results - The School average was the highest amongst all GEMS CBSE schools with the highest scores in Math and Science across all Schools
Started the Inter Class Theatre Competitions
Started the Young Entrepreneurs Challenge
Joined Generation Global as member
Invested the first batch of School Council members
Organised a GMS Family Sports Day
Organised the first overseas field trip to NASA, USA
Introduced the Kindergarten SEP Programme
Introduced the Overnight Camps – for Boys and for Girls
BYOD from Grades 3 to 10
Introduced Read Theory, Reading A to Z to promote reading
Infrastructural Improvements
Kindergarten FABLAB created
Kindergarten 'Imaginarium' set up
Primary TinkerLab created
Learning Niches created
Substantial investment in devices and new technologies
Spent AED60,000/-+ on books for the libraries
Set up the Kindergarten Library
Wireless connectivity improved with additional ARUBA sets
MDM for all devices installed to ensure online safety
Two trolleys of iPads and one trolley of laptops added
Stakeholder Satisfaction
All non-compliance related issues resolved
Parent Satisfaction Index consistently above 85%
Major Achievements
Hamdan Award Winner – Kashinadh Pranesh
School was awarded the Eco-Schools Green Flag
15 students qualified for the CBSE Nationals
Won almost all of the top Inter-School competitions in all fields, including FLL
Significant improvement in ASSET scores in Math and Science; among top performing school in English
100% of the student population participated in extra-curricular activities and 60% of students won prizes in competitions
Educational Initiatives
Introduced the Green Thumb Project – Organic Farming
Staged Sinhaasan – a theatrical spectacle involving the Middle and Senior School
Organized an interactive session with Nobel Laureate, Mr. Kailash Satyarthi
Introduced PITSCO – the only School outside the USA with a PITSCO Lab
Arabic introduced as a Second Language in Grade 9
CBSE Grade 10 Board Exams – School Average 86.2% - highest average across all GEMS CBSE Schools; Highest subject averages in Math, Science, Malayalam and Painting
Extended the subject options to include Marketing, Informatics Practices and Painting in Grades 11 and 12
Introduced I Start Arabic
Introduced the CBSE Artificial Intelligence course in Grade 8
Infrastructural Improvements
Middle School Collaboratory created
Swimming Pool flooring changed
EPDM Flooring of the KG and Primary play areas changed
30 new air-conditioning units installed
External cracks repaired
School façade painted
School bell system upgraded
Telephone system upgraded
Internet connectivity improved with an additional dedicated line
Stakeholder Satisfaction
NPS increased to 26
Number of LAB members increased by 2 persons
Parent Forum membership increased – apart from the main Parent Forum groups, smaller class-wise groups of parent member were also included
Major Achievements
Received an overall 'Good' in the SPEA inspections. Rated highest amongst all inspected schools with 95% of parameters being rated Good or better
Recognised by SPEA for being among the top performing Schools in PISA
Rated 'Developed' in all 13 stands of the DLE
Sharjah Excellence Award winner – Anupama Avarankunnuathu Padincharethil
12 students qualified for the CBSE Nationals
85% of students won in inter or intra-school competitions; 100% have participated in various competitions